Clinical:
Sensititre Vizion System®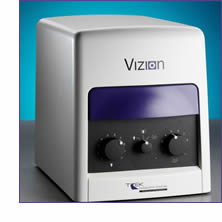 Plate reading is simplified with the Vizion System. The Vizion System incorporates automated technology into your visual results. Susceptibility plates are displayed on your SWIN PC screen with dilution templates and color coded interpretive results for quick and mistake proof results. Simply touch the screen or use your mouse to record your MIC.
Multiple reproducible lighting options allow for easy reading of even the most fastidious of isolates. The image "save" feature facilitates teaching, sharing and consultation of results


Consolidation of all off line susceptibility testing on a single user friendly instrument saves the laboratory valuable time and costs
Click here to schedule a Vizion demonstration in your laboratory!