Clinical:
Standard Identification Plates
(Part #GNID and GPID)
Sensititre autoidentification plates are in vitro diagnostic products developed to provide organism identification for the most common aerobic Gram negative and Gram positive bacteria.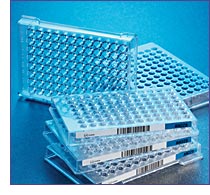 Presumptive ID of gram negative organisms can be obtained in five hours; identification to species level for both Gram negatives and Gram positives can be obtained after overnight incubation.


If extended incubation is required for identification,the same plate can be re-incubated eliminating the need to re-inoculate a new plate.


Each test plate is designed to identify three separate organisms.