Clinical:
Custom Susceptibility Plates
Through collaboration with all major pharmaceutical companies, Sensititre can offer the most extensive range of antimicrobics available for user-defined custom plates. A selection from over 200 antimicrobics can be incorporated into custom formats configured to meet your testing requirements. Antimicrobic selections are provided for both full range MIC and Breakpoint testing procedures. To meet individual laboratory test requirements, custom susceptibility plates are manufactured to meet CLSI (formerly NCCLS) guidelines. Small minimum order quantities allow for better cost and inventory control.
Dry Format -MIC and Breakpoint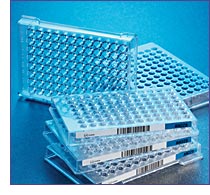 Custom MIC plates - with or without substrates in wells


Custom Breakpoint plates - with or without substrates in wells


When using Sensititre AutoReader or ARIS® 2X a substrate system is necessary. Sensititre offers the option of selecting plates with substrates in wells or plates without substrates plus E1012 Substrate Strips for Automated Reading. Contact your TREK Area Account Manager or Customer Service Representative for minimum order information. Quantity discounts are available.