The Science Behind onSite®
The onSite Urine Culture Device is a transparent, hinged casing containing face-to-face plates of agar with a plastic sampler with two curved tips located between the plates. The agar structure is elongated to ensure longitudinal streaking of urine by the sampler. Each onSite device contains one plate of MacConkey agar, a selective medium that provides excellent differentiation between coliforms and non-lactose fermenters with inhibition of gram positive cocci, and one plate of CLED Agar — A differential medium that supports the growth of both gram positive and gram negative bacteria, CLED agar also supports the growth of Pseudomonas and Proteus, which do not ferment lactose.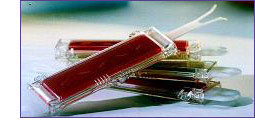 Enhanced Laboratory Efficiency
onSite combines the sensitivity and specificity of the traditional urine culture method with the convenience and efficiency of a unique design for detecting, enumerating, and identifying specific bacteria in urine.
View an article published by American Biotechnology Laboratory News on onSite.
"A point-of-collection urine culture device for fast turnaround time and ease of use."
"Reprinted from American Biotechnology Laboratory News November 2001"

onSite Provides
Easy set up at the point of specimen collection
Immediate inoculation for rapid organism recovery
Conventional "Gold Standard" culture methodology
Compact, self-contained test
Ability to incubate more tests per cubic foot
Safe and effective means of specimen transportation
onSite Eliminates

Leaky or spilled urine specimens
Additional disposals such as Boric acid, containers and loops
Delays that impact accurate colony counts
Need for refrigeration of urine samples during transportation
Delayed specimen transport
Sharps exposure
Excessive biohazard waste
More Information
Packaging –

onSite is packaged in boxes of 100 units (100 tests), sealed in individual bags of 10 units (tests) each

Storage –

onSite CLED/Macconkey at 2-25 degrees Celsius. After opening the polyethylene bag containing 10 onSite units, seal the bag tightly with tape over the length of the opening.

Expiration Date –

The expiration date applies to the product in its intact container when stored as directed.

Shelf Life –

onSite CLED/MacConkey: 7 months from the date of manufacture